Placer 2022 Hall of Fame induction ceremony to be held in April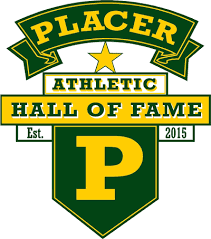 The Placer High School Athletic Hall of Fame has displayed Placer's athletes throughout Placer's 125 year long history. 
Every year, different athletes from Placer are inducted into the hall of fame. This year's induction ceremony will be on April 30th, 2022. Through a Google Doc, people can nominate athletes they believe are worthy of Placer's Hall of Fame.
Placer has many talented athletes that have been introduced to the hall of fame throughout the years. For example, Jimmy Carroll, the Placer High School all-time leading scorer and assist leader. He went on to become a collegiate and professional basketball player. 
Coach Kendall Arnett was inducted in 2017, and he coached baseball and football at Placer. He established the Block P Patriotic Basketball Tournament in 1943, and a tournament was named for his honor in 1955. 
Another coach that made the Placer Hall of Fame was Earl Crabbe, which our gym is named after. He coached many sports including football, basketball, baseball, track and field, and cross country. We won a combined 30 SFL championships in the years he was coaching. 
Gold medalist Stacy Dragila is also a part of the hall of fame. During her years at Placer, she participated in volleyball, nordic ski, alpine ski, and track and field. She attended the 2000 Sydney Olympics and received a gold medal in pole vaulting. Dragila is a nine time US Outdoor Pole Vault Champion and two time world pole vault champion. 
Six athletes are going to be introduced into the hall of fame this upcoming April.
One of these athletes is Alton Caesar, who graduated in 1972. He was Placer's leading scorer for basketball, top-sprinter for the track team, and was a leading athlete for the baseball team. After attending Sierra College for two years and playing baseball and basketball, he then accepted an offer to play baseball for Cal Berkeley. 
Placer tennis coach Randy Havens is also being inducted. Havens graduated in 1978 after excelling in both basketball and tennis. He pursued a professional career in tennis after he attended Sierra College and Cal Poly San Luis Obispo.
Another athlete that will be inducted is Aaron Semas, a rodeo professional who now lives in Weatherford, Texas. Semas is acknowledged in the PBR Ring of Honor, and was a top-tier rider who made the Professional Bull Riders Finals four times. 
The fourth athlete who will be added to the hall of fame is Jill Butler who participated in basketball and tennis during her time at Placer. Butler won two back-to-back CIF titles and also attained two Sierra Foothill league titles in basketball. She then went on to further her career at CSU Sacramento and Southern Utah University. 
Cross-country and track runner Stuart Eastman is also being inducted into the hall of fame for being a California state Division 3 cross-country champion during his senior year. 
And finally, Lisa Mispley-Fortier will be inducted, an exceptional Hillmen basketball player who is being recognized for her coaching career. Mispley-Fortier has been leading her Gonzaga women's basketball team for 8 years, and they have made 4 appearances in the NCAA Tournament. 
The Placer Athletic Hall of Fame will continue to acknowledge exceptional athletes and coaches from schools that feed into Placer High.