Some of the hardest workers on Placer High School's campus are rarely seen. The Placer High School custodians work from 2:30 p.m. to 11 p.m. every day and pick up about 1,500 pounds of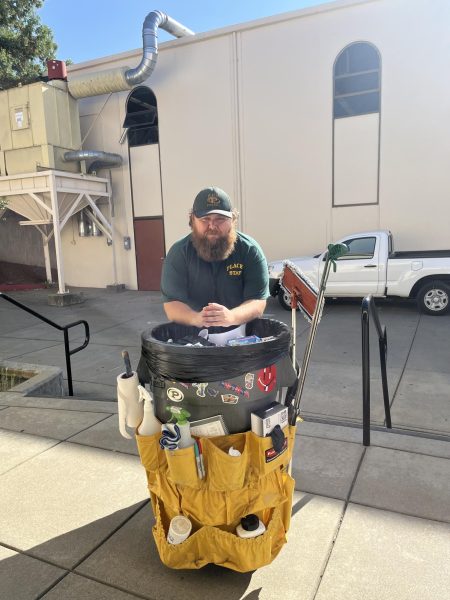 trash every week.
Although they do not often get recognized for the work they do, the custodians are essential to keeping Placer High in working conditions. They clean almost every inch of Placer's campus; some of them start work while school is in session and others start as soon as it is over, and they end up working past 11 pm.
In addition to trash, vapes have also been a large problem on campus.  The custodians pick up all kinds of objects including vape pens and other e-cigarette accessories that are most often found in the bathrooms.   According to the custodians, the bathrooms are the dirtiest places on campus.
"I hate finding vape cartridges and batteries and I see them [vapes] twice a day," said Mickey Burton, a custodian at Placer. 
With finding three vapes, or vape parts in a day, finding them in six bathrooms is a lot. Burton hates finding them because they are addicting and can lead to other problems for that student in the future.
There are many unpleasant things the custodians have to deal with, but most are manageable. Unfortunately, stool in the urinals is one of the worst things custodians face.  
"It is by far the grossest thing I deal with," said custodian Pete Schow.  "Luckily I only have had to deal with it three times in my five years at Placer."
Although Schow has had to deal with messes some students create, he still has great interactions with students and staff.    Schow still recalls when Placer Social Science teacher Brett Belanger called Pete into his class and had all the students clap and thank him for what he does.
"It was probably the best thing a teacher has done for me," said Schow.
Teachers do not often have the custodian's cell number but Schow is different. He has given several teachers his number because he, like all other custodians, takes pride in their work.  Even if it is not the most glamorous job on campus, it is required for Placer to be able to function.
Delilah Hart, a student at Placer, said that "without custodians, Placer would be very dirty," and she "wouldn't want to go to school that much." 
The custodians busiest nights are during the football games on Friday nights, picking up over 15 bags of trash per game. They picked up over 30 bags during the Del Oro
game.
"The home part of the bleachers are much messier than the away team side," said Schow. 
The custodians work incredibly hard every day with the majority of the time alone. They pick up over a thousand pounds of trash a week and over 15 bags of trash per football game, with most of the trash left on the ground by the Placer side of the field. Next time you see a custodian say thank you, they deserve it.