The American River Clean-up sponsored by PARC (Protecting American River Canyons) took place on Saturday, September 23.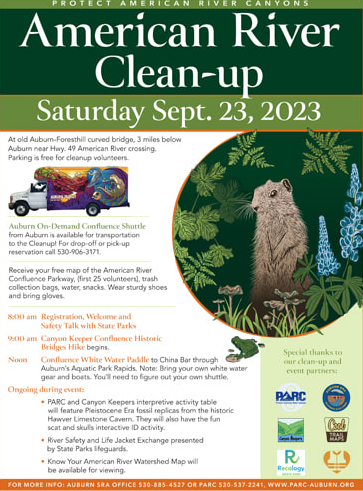 PARC has organized this event for over 30 years. Their goal is to take care of the canyon by picking up trash and other debris left by visitors. According to PARC, this event makes a big difference for the environment and helps to maintain the canyon's natural beauty.
According to long-time PARC volunteer Eric Peach, recent clean-ups have shown a better effort by visitors regarding trash.
"It's really paid off," said Peach, "We used to fill a 40-yard dumpster… and now we're just down to a commercial dumpster." 
In fact, Peach said that PARC isn't even responsible for much of the progress made since these events started. "…The whole community has [made a difference]," he said, "we just organize it."
But aside from proximity, this event hits even closer to Placer High. For years, Placer students and clubs have been attending these clean-up events. For instance, whenever Social Science teacher Greg Robinson hears about upcoming PARC events, he sends his Gov/Econ students.
"I'd like to think that students would be motivated just because of an intrinsic care for the canyon," Robinson said. Not only do his students volunteer, but the Placer Environmental Club often takes part as well. 
"We've always had a good turnout from Placer High School," Peach said. 
The canyon gets thousands of visitors every year. After a summer of constant use, the litter piles up, despite efforts by volunteers. 
"
"We only have one canyon. Take care of it."
— Greg Robinson, Social Science teacher
"There's quite a bit of trash," said Robinson.  "People take things with them and then don't bring them out. That's the way it is. It's up to us and other people who care about the canyon to try and keep it looking the way it should look."
In other words, with the end of the recreational season, those who attend the fall clean-up will have extra work. 
"We only have one canyon. Take care of it," Robinson said as a final remark. 
The next clean-up event will most likely be held in April for Earth Day.