PHS freshmen express the ups and downs of being on a varsity team.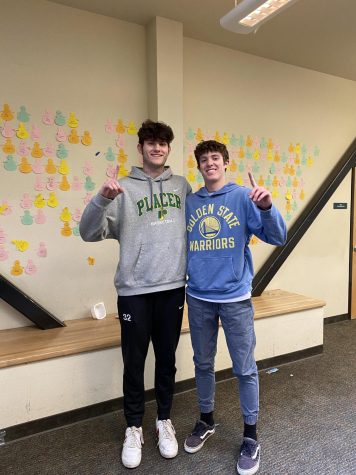 Freshmen athletes at Placer High School are playing for varsity teams, explaining both the ups and downs of this feat.
Jeremiah Rethi, a freshman on the varsity basketball and football teams at Placer, stated that being on these teams is a humbling experience.
"The seniors and juniors on the team have definitely taught me to be more mature," said Rethi, "I've learned a lot from them."
However, being young and challenged on a top athletic team can be a lot of pressure. "It can definitely be a lot on your shoulders," said Joseph Manley, a 9th-grade varsity basketball player. "I wouldn't have it any other way."
While being on a varsity-level team can be daunting, going for gold and being an ambitious athlete has a lot of benefits.
It is encouraged for every aspiring professional athlete to try out for varsity, even if they are a freshman.
"Trying out for a varsity-level team in itself is a learning experience, even if you do not make it, you can learn many new techniques that can further improve your athletic abilities."
"I definitely think any athlete who's good at what they do to try for varsity," stated Manley.
For every freshman or sophomore wanting to try varsity, their gameplay must be on point, a few of these freshmen athletes didn't even know they had it in them. 
Riley Anderson, a freshman on varsity cross country, said that once her coach saw her run she was instantly put on varsity. 
"Once I got on varsity, it was kind of a lot of pressure." expressed Anderson, "but I feel like it's really rewarding in the end." 
These freshmen are some of the most talented athletes at Placer High School, as well as the most humble.
"I think I've been humbled a lot since playing with the varsity guys," explained Rethi, "they trained me to be that way."
Freshmen on varsity teams here carry the representation of Placer's athletics, and they prove the fact that sports at PHS are golden.