Placer, meet your new foreign exchange students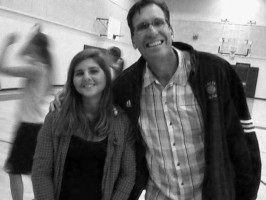 As the school year begins, foreign exchange students come join Placer.  This exchange program allows for two worlds to unite and for the exchange student to study abroad through summer programs, 1st semester programs, or even a year stay.  Luckily, Placer is hosting 3 foreign exchange students; 2 from Italy and one from Chile.
            Ilaria Piredda, 17, traveled 5,343 miles from Italy to the United States.  She is from Porto Ottiolu, Sardinia.  Sardinia is the second-largest island in the Mediterranean Sea, north of Italy's main region.  Sophia Migliori, another exchange student has come from Italy as well. When it comes to food, Italy is best known for their spaghetti and pizza.  However, America is known for their amazing burgers and fries.
            "The burgers are delicious.  Much better than ours back home." exclaimed Piredda.
            The adjustment is difficult to Piredda, just like any other exchange student, mostly because of the communication.  She loves America so far and loves Placer High as well.
            "I love Placer because it's the typical high school, much different than Italian schools.  There are the football games, the rallies, the cliques, etc.," exclaimed Piredda.
            In Italy, the schooling is much different. Students have to choose what kind of schooling they want or need. They can choose scientific school, classic school, or profession school.  Piredda chose scientific school because she wants to become a biologist.  She is staying with Mr. Tony Camillucci, the girl's basketball coach at Placer.
            "We already consider her as part of the family.  But when she leaves, my family and I would love to go visit her, mostly because she lives in a resort town!" joked Camillucci.
            Piredda is enjoying her stay so far and is planning to visit America again after she leaves.
           Another exchange student that has come to Placer High School is Senior Pablo Gongora-Jercic from Santiago, Chile.  Placer, in his opinion, is a very large school.  Placer High School has approximately 1250 students, which is small for most public schools in California.  Gongora-Jercic's school, however, has about 200 students.
"People are very friendly here. Everywhere I go, I'm always greeted with smiles and a jolly hello!" said Pablo.
 English is not a difficult aspect for Gongora-Jercic to learn.  His English is very good and fluent, which is quite different from other exchange students.  Gongora-Jercic will be staying here until August of next year.  
The three students that have joined Placer this year will most likely have a blast and will definitely become part of the family at Pacer, because in the best of times and in the worst of times, it's great to be a Hillmen!