Placer football earns first league victory after Center forfeits
Audio equipment also stolen from press box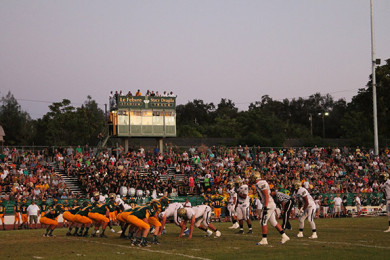 Hang on for a minute...we're trying to find some more stories you might like.
By Cody Hitchcock
Messenger Staff Writer
The varsity football game on October 10th was canceled because the opponent forfeited the game.
Center High School forfeited the Placer home game, which is causing the varsity team to go without a football game for twenty days including the team's bye [no game] the previous week.
"Center High was in a bench clearing fight in their previous game. CIF regulations state that 'Any athlete or coach who is ejected from a game for a flagrant foul, dangerous or unsportsmanlike conduct will be suspended for the next game played, and the whole team was suspended" stated Athletic Director Mark Lee.
Head football coach Joey Montoya is sympathetic towards the seniors, who are missing out on a game in there last year of high school.
"It's really a bummer" said Montoya.
The team also missed out on a chance to work on plays that are new, or that are difficult to practice, and should only be implemented during a game.
The school did not just lose game experience, but lost approximately $6,000 in funds for the Athletic department.
Although the varsity game was canceled, the JV game continued as planned for the 10th of October; however, the announcing of the JV game was through a microphone, as the press box on the field was broken into and many items inside were stolen.
"We had a box with an amp, mixer, stereo system, iPod hookup, mics, and cables" said Lee.
The last time Lee had seen the cart was Thursday October 2nd at a soccer game.
The cart weighs 250 pounds and is on wheels. On Tuesday, the press box reopened and the large black box was missing.
"I'm surprised and disappointed. Usually we don't have issues like this around here" said Montoya.
Announcing the JV game, which was not canceled, had become an issue of familiarity.
"Although you are just announcing the game, it's comforting when you are familiar with the equipment. When it is changed it can throw you off," stated game announcer Dan Wilson.
Lee said that an older backup system was used for the sporting events the last week that we did not have the large sound system.