Placer FFA competing in annual speech competitions
Story by Keara Chorn, Messenger Staff Writer
January 28, 2022
Some students in the Placer FFA will be competing in various speaking competitions between January 25th to January 29th.
The FFA, which stands for Future Farmers of America, is the largest student or youth organization in the nation that promotes and supports agricultural education.
This yearly event allows students to compete in different contest categories against several other chapters in the Sierra Buttes section to test their leadership and communications skills along with the presentation of their agricultural knowledge.
Starting from chapters, FFA students can participate in sectionals, regionals, states, and then the nationals if they do well consecutively.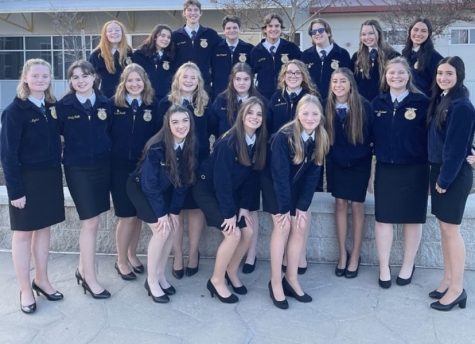 Both seniors, Ty LaVinge, the president of the Placer FFA chapter and Mackenzie Anderson, the reporter of the chapter, will be taking part in the Employment Skills Event.
This competition, which is similar to a mock job interview, is available for any FFA member who is interested in improving their leadership skills, public speaking skills, and to get real-world interview experiences.
This event features multiple real-life occupations from different agricultural fields that one can apply for, such as an agricultural resource technician, plant care specialist, and even a small animal shelter assistant. Mackenzie is interviewing for the floriculture funeral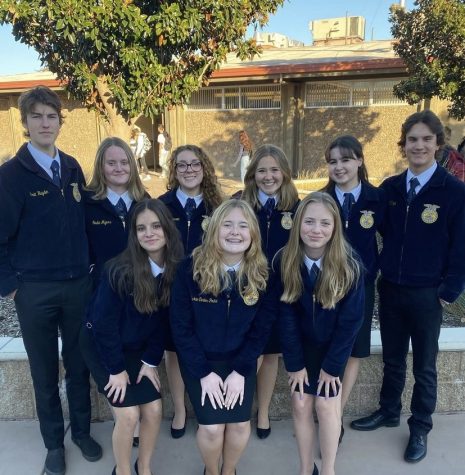 service assistant position for the Service Corporation International (SCI).
For the last two months, they both made a cover letter to prepare for the competition, as well as a résumé and fine tuned it to correlate to their jobs with the help of the agricultural science teacher, Haylee Fonseca. Needing to be prepared and professional, Mackenzie and Ty also practiced having others ask them questions on the spot.
The first part of the contest was an online interview on January 25, 2022, and if they both make it to the finals on that upcoming Saturday, they will be able to go do an in person interview in front of a panel of judges.
"
…you get so much real-world experience with people asking you impromptu questions and having to act professional and being put on the spot. So, I feel like this competition is the best for people who need more skills when it comes to communications or job interviews."
— Mackenzie Anderson
Additionally, Placer FFA chapter secretary, Sadie Myers, is competing in the Prepared Public Speaking Event that involves presenting a six to eight-minute speech.
After doing research on a topic of interest relating to agriculture and preparing for it, she will be giving a speech in front of a panel of judges where she will be evaluated on.
FFA member and sophomore, Addison Horn, will be participating in the Extemporaneous Public Speaking Event, which involves giving short impromptu speeches. 
This competition involves randomly choosing 18 topics and then three topics of interest  from a small bowl and giving a one to two minute speech about it with only a limited amount of time to prepare beforehand. 
It is available for sophomores in the FFA who want to practice their presentation skills, logical thinking, and to present their knowledge on agriculture.
To prepare, Addison looks over various topics from prior competitions. Some of the questions are more agricultural based like giving scientific facts, and others are more about the FFA or the community in general. She does her prepared research, so that she will be ready for any questions that are thrown at her. 
"
Well, I really like public speaking and Ms. Fonseca was the one who offered it to me. And I thought it sounded interesting."
— Addison Horn
FFA members and freshmans, Emma Jo Anderson and Jayne LaVinge, are both participating in the Creed Speaking Event. 
Students who are participating in this competition will be reciting the National FFA Creed word for word from memory and judged by their performance. The FFA Creed represents the organization's values and beliefs, specifically about agriculture, being an FFA member and a part of the community. 
Everyday, Emma Jo and Jayne spend time to help each other practice memorizing and saying the creed aloud. 
Following the recitation, students will be then asked three questions about it, basing their answers on their own personal experiences relating to the creed or the local community. This will be able to help them improve their speaking skills and build their self-confidence.
We wish them the best of luck at all of their competitions and hope that they all will make it to the finals.