Placer's updated cafeteria projected completion date in early 2022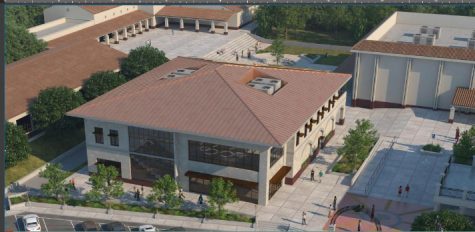 The updated Learning Commons- or cafeteria- will become a new and important feature on Placer's campus despite the distant projected completion date.
Placer Union High School District assistant superintendent Peter Efstathiu shared that, "construction business timelines are always subject to change" but that the "estimated completion date is February 2022." This means that current seniors and juniors who graduate early will not be seeing the completed cafeteria. In addition, so far there have been no significant setbacks except for rainy weather and the relocation of a storm drain.
The construction of the new cafeteria comes after multiple discussions that finalized the decision that the construction would be financially feasible. 
"It was determined that the project would benefit from the demolition of the existing single story cafeteria and the construction of a new, two story learning commons" explained Efstathiu. 
The new two story building will include equipment and furniture, along with the library, a classroom and the career center on the upper level. "The cafeteria area can double as a multi-purpose room" Efstahiu further elaborated. 
Efstathiu stated that Placer's updated learning commons biggest difference will be that it is,  "the only building that includes a cafeteria, library and student area all in one location" when compared to other sister campuses, like those on the Colfax, Foresthill, and Del Oro's sites.
Sophomore Angel Peña from Del Oro high school explained that his school's cafeteria, "doesn't have those same features" and that he "hopes other schools in the district will see similar improvements and upgrades."
Despite these dramatic physical changes, the food served during lunch and nutrition will remain the same. 
Students on campus seem appreciative and happy to see this building get a much-needed upgrade. Robbie Thomas, a sophomore at Placer High said that he is, "excited because it will be nice to have something new and useful on campus where you can work, eat and study." 
Junior Jarely Rosales agreed, explaining that "it (the cafeteria) will have more room for us students to do work without taking up a bunch of room while we're eating." Rosales explained her viewpoint on the need for an update, stating that, "the update was necessary because now students don't have to worry about not finding a place to sit and eat." 
Students are hoping to see improvements in spacing, food options, and with the addition of a second story, new areas for learning and working. Thomas stated that he, "will be visiting the cafeteria more because I would always eat at either the cafeteria or library and now I will have a place for both." 
Rosales agreed, she voiced that "I think I will be visiting the cafeteria more often." 
With the revamped Learning Commons on its way, students will be able to experience a better and more spacious environment for eating, socializing, and studying.