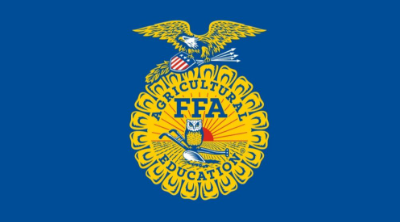 So what exactly is FFA?  That has been an ongoing question at Placer High School for decades. It seems staff and students alike have wondered without conclusiveness. In interviewing several people around the Placer High School campus, it seems the ones who know what FFA is are the students and teachers most involved.  FFA stands for the Future Farmers of America.
"FFA helps students improve their work ethics," said Haylee Kidd, Placer High Schools' FFA advisor, and Ag Teacher, "FFA is at large at school family that you can trust."
FFA has benefited many students across the nation, varying from livestock judging to writing your SAE (Supervised Agricultural Experience). Some of the benefits of FFA include work experience, leadership development, youth growth, and community involvement. 
 The Placer High FFA Chapter is the 12th oldest chapter in the state of California, founded in 1929 a year after FFV (Future Farmers of Virginia) was adopted by the U.S. as a national organization and was renamed the "Future Farmers of America". On the back wall of the Ag science room sits a framed FFA emblem made entirely of seeds.
"At the end of the day FFA is career-oriented,"  stated Kayla Tofte, student teacher for the Placer High School Agriculture classes.
According to the National FFA Organization, the FFA mission statement states:
The National FFA Organization is dedicated to making a positive difference in the lives of students by developing their potential for premier leadership, personal growth, and career success through agricultural education. 
Develops competent and assertive agricultural leadership.

Increases awareness of the global and technological importance of agriculture and its contribution to our well-being

Strengthens the confidence of agriculture students in themselves and their work

Promotes the intelligent choice and establishment of an agricultural career

Encourages wise management of economic, environmental and human resources of the community

Develops interpersonal skills in teamwork, communications, human relations and social interaction

Builds character and promotes citizenship, volunteerism and patriotism

Promotes cooperation and cooperative attitudes among all people

Promotes healthy lifestyles

Encourages excellence in scholarship
It starts with enrollment in an agricultural class, taught by a credentialed agriculture teacher. This gives students direct access to FFA activities available locally and across the nation. One class allows access all year. The projects can vary from market animals to food preparation. This provides students an opportunity  to explore their interests.
Agriculture is considered both a Career Technical Education (CTE) based program as well as a Science, Technology, Engineering, and Mathematics program (STEM). Students who get involved in the program can be career-ready by high school or if college is their route, they are better prepared for that too.