Hydro Flasks turn into a trend more than a source of hydration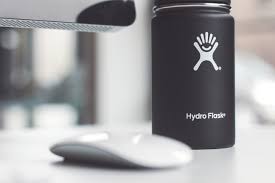 By Katelyn Folk and Alyssa Gross
Messenger Staff Writers
Many people use Hydro Flasks for hydration, but this trend may have instilled itself into the minds of students beyond its designed purpose.
Megan Clifton, sophomore, shared her view on the subject, stating, "I have a Hydro Flask of my own. I don't use my Hydro Flask on a daily basis [but] usually twice a week [because] it is too heavy to hold everyday. I only bring it to cheer to stay hydrated. I use it for their purposes and not to be cool. I don't think it is worth about $30. I prefer other water bottles that are cheaper and just like Hydro Flasks, such as regular water bottles."
Norah Demello, freshman, explained, "I use it on a daily basis because it keeps my water cold. I think they are very helpful, and they're worth what you pay for them, and they keep your water cold or your tea hot."
Hailey Reyna, freshman, said, "I use my Hydro Flask on a daily basis…  I don't think it is a big deal, but… it does keep my water cold. I think it could be cheaper. It's a water bottle; I don't think it's anything special."
According to the Hydro Flask Company, Hydro Flasks are insulated water bottles that are made of good quality stainless steel. The bottles don't have any liners; they are mostly composed of aluminum and are BPA free. This is the first Polar Bottle product that wasn't made in America, as all other types of Hydro Flasks are usually made in China.
Alix Stuart, expressed what she found out from the company, "The Hydro Flasks were initially developed in 2009 by Travis Rosbach and Cindy Morse. They ended up creating the Hydro Flask company, located in Bend, Oregon." The point of Hydro Flasks is to keep drinks cold when the weather is hot. Even five hours after filling up a Hydro Flask, water will still remain nice and cold.
The Hydro Flask Company stated that, The bottle functions by the same principle for either a hot or a cold drink. "The Hydro Flask company hit about one million in sales in the year 2011, and after six years of success, it now offers about 100 products in four different categories: hydration, coffee, beer, and food. The company has received many awards, such as a place on Inc 500's "Quickest Growing Companies" list, and on Outside Magazine's "Best Places to Get a Job" list, two years in a row.
In 2015, the Hydro Flasks company became even bigger in Europe and had planned to go worldwide by the end of 2016."
There are so many trends every year, and Hydro Flasks have become a notable item to add to that annual list.