Students walking local railways are putting themselves at risk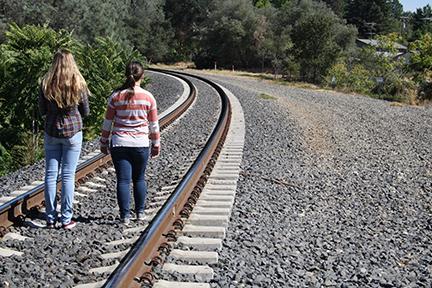 By Lacie McArdle
Hillmen Messanger Staff Writer
Recent transportation of crude oil has increased worry of railroad danger. According to some, trespassing on the tracks is an even greater concern.
"I think that people walking on the tracks is a bigger issue than crude oils being transported," Auburn Division Chief Firefighter Craig McArdle explained.
The Washington Post reported that in 2013 alone there were 2,201 general deaths or injuries that were caused by railroad track.
Ronald Daniels Jr was hit and killed by a freight train August 6. Danna Renea Bass had also died in similar circumstances within 3 miles of Daniel's death about a month earlier.
According to Federal Railroad Administration, "nationally, there are approximately 500 trespassing deaths a year."
"We did an assembly two years ago about train safety reminding kids that they shouldn't really be up there. I know we have kids that walk up on the train tracks. It's actually trespassing and dangerous," said Steve Caminiti, on the topic of the tracks above campus.
Students however don't find the tracks very hazardous, and can't seem to find a reason why they should be unable to walk on them.
"I don't understand why people would get mad for people using the trails," said a Placer junior.
"A train could come by and really hurt or kill someone, but it's not a huge issue." explained Diego Ramirez. He also pointed out that there are dangers besides the quickly oncoming train itself, such as tripping on the uneven ground, or getting hurt on any other parts of the track.
If anyone is on the tracks without professional permission, not only are they in danger, but they are illegally on private property. So next time you see the R/R sign, make sure not to mistake it for rest in relaxation.